West End Water Sports is located on Rainbow Beach, on St. Croix's west end. Here you'll find the calm, crystal blue waters and white Caribbean sand you have dreamed of – perfect for water sports. We offer a fleet of new and well maintained Jet Skis, plus the newest craze in watersports, the Flyboard! Looking for something more relaxing? We have lounge chairs, umbrellas, snorkel gear, stand-up paddle boards, kayaks and floats for rent, and free volleyball, bag toss games and giant Jenga. For lunch and your favorite island beverages, stop next door at 'Rhythms at Rainbow' beach bar and grill. We hope to see you soon!
Location: Frederiksted
Phone: (340) 277-8295
Jet Ski Rentals & Tours
Your choice of guided or unguided use allows you to enjoy jet skiing on St Croix however you wish! For daring riders, our Adrenaline & Extreme Tours offers the ideal jet ski opportunity - jump waves and go fast til your heart's content. There is a minimum of two jet skis or a maximum of 4 jet skis on the tour with one rider each. 
Jet Boat Rentals
Rent a 23ft Yamaha jet boat and explore St. Croix with friends. Jet Boat driver must have proof of age, and each renter must be 18 years or older.
Stand Up Paddle Boards, Snorkel Gear, & Kayak Rentals
The calm waters of St. Croix's West End are perfect for leisurely water sports. So, for those looking to enjoy the warm Caribbean waters on or near the surface, we also rent stand up paddle boards and kayaks. If you're ready to dive in, stop by and rent your snorkel gear to see the beauty below the surface. 
Beach Chairs, Umbrellas & Lounge Rentals
When visiting the beach, some people want to be on a jet ski all day long, but others prefer to soak up the sun and gaze at the crystal clear Caribbean water. For your ocean-viewing and sunbathing pleasure, we offer the following beach necessities, each with full-day rentals:
Beach chairs
Loungers
Umbrellas
Sun-ray floats
The last thing you want to worry about at the end of your day at the beach is returning bulky equipment and other items. Do not worry—West End Water Sports is full service. We will set up all of your rented equipment for you and pick it up when you are finished.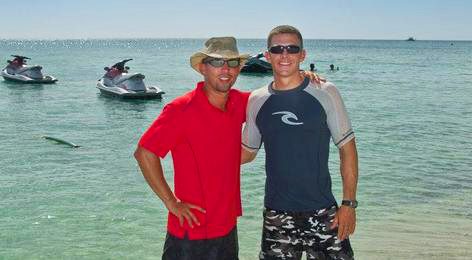 We are Brian and Scott, Owner/Operators of West End Water Sports. Our mission is to provide the best beach day of your vacation on the island of St. Croix. Whether you just want to grab a float and a rum drink and never leave the water or you want to do some seriously awesome jet-skiing we are here to serve you and provide you with anything we can to ensure you a relaxing day. After all, You've Earned it!
How long have you saved up and planned for your vacation? We completely understand. We moved to the islands for a reason but that reason was not to become complacent or pick up the "island time" mentality. We believe completely in a well-run customer service driven business which is what we strive to provide for you when you visit Rainbow Beach. Feel free to give us a call if you have any questions at all including just some advice about the island in general. Thanks, we hope to see you while you're here, hope you have a great time visiting St. Croix, enjoy meeting all the wonderful people on the island and participating in all of the islands activities!  Cheers Mon!